ABOUT LAURI STRICKER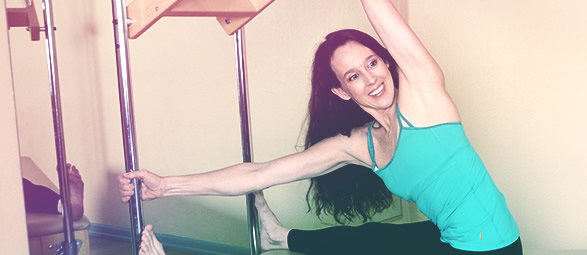 Lauri Stricker is the founder of Evergreen Pilates.  She is a PMA Certified Pilates Instructor,     author of the book, Pilates for the Outdoor Athlete, creator of  the DVD, Pilates with your Baby, and founder of BarreElevate, a Pilates based Ballet Barre Fitness Program.   Lauri has an MBA from the University of Denver.  Lauri is the mother of two sons and enjoys staying active in the great outdoors."
"I had always dreamed of creating a business that would positively impact the lives of other people.  After years as a Marketing Professional, I spent two years training before receiving my certification from Pilates of Boulder. I have practiced Pilates since 2001 and studied with many master teachers.  I completed the Masters Program at the Pilates Center in Boulder, Colorado in March of 2011. My mission for the Evergreen Studio is simple: to maintain the integrity and excellence of Joseph Pilates' Method and to facilitate greater health and well-being in my clients. I have a long term interest in developing relationships with my clients and helping them in their pursuit of health and happiness."
Read an article in The Denver Post about Lauri.
Contact Lauri at lauri@nullevergreenpilates.com.
Staff
Kathy Crespo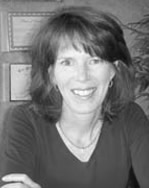 Kathy Crespo is a native of Colorado and has always been active in outdoor recreation. She was a long distance runner for 20 years before injuring her back. Kathy found the Pilates program to be the best form of rehabilitation. She believed so strongly in what she learned, she decided to go through the certification with Richard Rossiter at Pilates of Boulder and teach. She has attended kinesiology workshops and also Standing Pilates at the Physical Mind Institute. Kathy's passion is to help others with their bodies so they can continue to enjoy their activity with better efficiency and without injury.
Jodi Brinkman
Jodi is originally from Buffalo New York. Early on she recognized her love of singing and the stage, and received her Bachelor of Fine Arts in Musical Theatre. She has worked as a professional singer/actress since 2002, in Denver, New York, and Cleveland.  Jodi studied under Balanced Body's Master Instructor and 2nd generation teacher Troy McCarty, owner of Cleveland's renowned White Cloud Studios. After becoming certified, Jodi helped develop a full reformer studio at the Jewish Community Center of Cleveland and went from 1 student to a full 35 hour/week class schedule for the next 3 years. However, with the mountains calling her, relocated back to Denver in late 2010. She enjoys working with all different varieties of bodies in front of her, from pre to post-natal, seniors and trained athletes. Through her own practice of the classical and contemporary exercises developed by 1st and 2nd generation teachers, she has opened up a world of strength and length for both herself as well as her clients. With consistent practice her clients have been able to discover more intelligent ways in which to move through their daily lives.
Patricia Hamarat
Originally from Lima-Peru Sub America, Patricia has taught Latin dance for over 10 years. Patricia was a professional dancer in both Argentina and Peru, performing Ballroom Salsa, Merengue, Cambia, Samba, Jazz, and Latin Dance. Patricia holds a certification in Zumba, and continues to pursue education as a teacher, and also as a student of dance. In addition, Patricia is an avid rock climber and martial artist. In Peru, Patricia achieved National Champion status for her accomplishments in Taekwondo. Patricia invites you to join her, and share in her passion for dance.
Nicole Bogle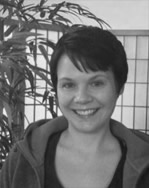 Originally from Ohio, Nicole Bogle received a B.S. in business from The Ohio State University in 1999. After graduating she moved to New York City to work in banking. When Nicole was injured training for the New York City Marathon, her physical therapist introduced her to Pilates as a means of rehabilitation and cross training. Nicole learned effective movement patterns that allowed her to run without low back or hip pain, along with increasing her strength and flexibility. After working in banking for seven years, Nicole decided on a career change. At the same time, Nicole and her husband decided they wanted a change from the fast-paced lifestyle of the city and moved to Colorado. They had fallen in love with the mountains during their yearly visits in the winter to go snowboarding. Excited at the opportunity to change her career, Nicole decided she wanted to share the benefits of Pilates with others. in 2012 she graduated from The Pilates Center Teacher Training Program in Boulder, Colorado. When Nicole is not in the studio, she enjoys hiking, running, and snowboarding.
Carol Higgins-Sleeth
Carol Higgins-Sleeth is a certified Pilates instructor recognized by the Pilates Institute of Boulder.  She has been teaching at Evergreen Pilates since 2013 and is passionate about teaching and upholding the excellence of the Pilates Method.  Carol is also a certified BarreElevate and TRX instructor.   Carol's uplifting and supportive presence brings out the best in everyone!  She is committed teaching and giving her very best.
Sarah Anderson
Sarah Anderson is a native to Evergreen, CO and recently moved back after living in Denver for several years. She loves being in the mountains and living in a small community again. Sarah has been a musician in the band Paper bird for the last ten years. While on the road touring, she has been able to keep her body healthy and strong through practicing Pilates. Sarah was thrilled with the positive effect Pilates had on her life.  Sarah received her certification from the Pilates Center in Boulder. She loves connecting with her clients and assisting them in building strength, finding balance, and tuning into their bodies.
Nichole Hicks
I find great joy supporting others to achieve their fitness goals. I believe health incorporates a person as a "whole" and encourage balance in all aspects of a person's life. I began ballet at a very young age, and appreciate the challenge, strength, and grace of dance. During my high school years I played volleyball and have always lived a very active life. I taught barre at The Ballet Physique, and am thrilled to bring my joy of teaching BarreElevate at Evergreen Pilates. I greatly enjoy getting to know every client that comes to class, and am eager to help each one of you individually. I am a Colorado native and love to spend my time outdoors and enjoy all that this beautiful state has to offer. I am engaged to my high school sweetheart, and we are excited for the new chapter in our lives. I have been a preschool teacher for the past six years, and there is never a dull moment! Hope to see you at the barre!
Tracy Doty

Tracy recently moved to Evergreen from Southern California and is thrilled to have found Evergreen Pilates! She taught at ABC Pilates in Laguna Niguel, CA under the direction of Amy Cady for many years. Tracy grew up dancing! She was a dance major at Towson State University in Maryland, a dancing ball girl for the Baltimore Orioles, singer/dancer at King's Dominion (VA) and Great America (CA) theme parks and can be seen dancing in the original movie, "Hairspray"! But after more than twenty five years of performing, teaching dance and choreographing for competitive teams and theater, Pilates was the perfect career transition! Tracy loves teaching and helping clients reach their fitness goals through the mind body connection of Pilates!
Friends of Evergreen Pilates
Physical fitness is the first requisite for happiness.