"I have been taking Pilates classes once a week for one year at Evergreen Pilates, and my results have been dramatic. Applying my new understanding of 'core' muscles has improved my golf swing speed by 10-12% and has allowed me to swing with greater ease and consistency."
— Tom Chicovsky, Age 59, Golf Professional
As an avid rock climber, I discovered Pilates as the ultimate cross training exercise. Athletes often develop muscle imbalances due to sport specific training. As a result, some muscles become over developed and tight while other muscles become weak and stressed. Over time these imbalances can create injury and keep us from doing the sports we love. Pilates helps to restore balance and to maintain flexibility.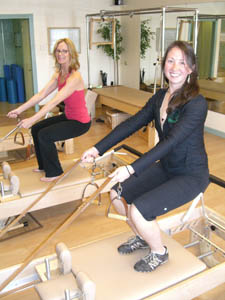 In addition, Pilates improves your overall mind body connection, improving concentration, coordination and overall performance. Pilates can help you reach the next level in your performance. I encourage athletes to consider Pilates as part of their weekly training routine. I offer customized classes specifically for climbers, runners, cyclists, skiers, golfers, and swimmers to improve their performance and stay healthy. Whatever your activity, I will customize a program based on your specific needs to maximize the benefits of Pilates for you.
Some of the benefits to Athletes include: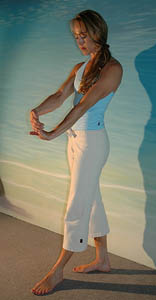 Better core strength
Injury prevention
Enhanced energy & efficiency of movement
Improved Breathing
Improved Coordination
Improved Focus (mind & body connection)
For more information on cross-training routines please look for my book Pilates for the Outdoor Athlete.
My method develops the body uniformly, corrects wrong posture, restores physical vitality, invigorates the mind, and elevates the spirit.