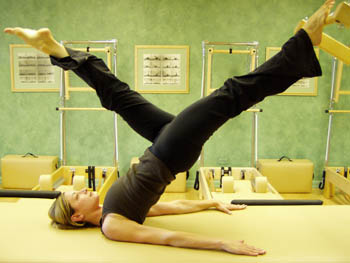 "What a blessing Lauri and Evergreen Pilates has been in my life! I have suffered with chronic back pain from scoliosis my entire life and while I have not let it stop me too often, I was in pretty severe pain when I first met Lauri. I had read, and heard many good things about Pilates but had not found any place that taught the "real" thing until discovering Evergreen Pilates. I began with some private lessons with Lauri in April and was hooked immediately! There were days I would arrive at the studio and barely be able to move, yet after working with Lauri for an hour, would leave feeling tremendously better, so much stronger and more flexible! The misconception about Pilates is that one must be fit, flexible, and strong, or already an athlete or dancer; and those things just are not true. If you are, great! If you are not, even better because you will be! Your transformation will happen due to two things; one is the nature of the Pilates work out, and the other is due to the quality of the instructors at Evergreen Pilates. They are all certified, and very knowledgeable about the human body and many medical and physical conditions. These factors enable them to tailor your workouts to fit your needs. And they truly care about each individual student; besides feeling energized and rejuvenated after my workout, I feel as though I have been genuinely cared for! There were times early on I would jokingly ask Lauri, "I did mention how old I am, didn't I?" and she would enthusiastically and reassuringly say "You can do it!!" And much to my surprise, I could! Lauri, and her staff at Evergreen Pilates, have made a huge difference in my life and well being, so much so, that my time there is the best hour of my day."
—Kim Stark
It is difficult to adequately put into words everything that Evergreen Pilates has done for me both physically and emotionally. After being a runner for years with chronic lower back pain, I was advised by my doctor that the running was contributing to the painful compression and degeneration of the discs in my spine, and that I consider a low impact exercise program.  He recommended I try Pilates and suggested that it could help with my mild scoliosis and even stave off the health issues that come with a family history of osteoporosis.
Honestly, I was a bit intimidated to start a workout I was not familiar with, but was put at ease right away.  Lauri Stricker and all of the teachers are highly professional, extremely well trained and personable. The small class sizes and personalized attention by all of the teachers is unmatched. I am constantly impressed by their ability to modify the exercises to accommodate any limitation or injury helping to aid in recovery, yet continually challenge you within your range and monitor your improvements. I have been a regular for over 5 years, and the benefits I have experienced include overall increased strength and flexibility as well as improved balance and focus. Evergreen Pilates is a wonderful community of teachers and down to earth folks all interested in working toward an improved quality of life.  My time at the Evergreen Pilates continues to be some of the most rewarding parts of my day. Lauri Stricker and all the teachers make the classes fun while helping me become stronger which has greatly improved my overall health, physically, mentally and emotionally. 
I am totally committed to practicing Pilates in the years to come, certain that it will help me live life to the fullest. 
-Susan Woods
"In August I'd been to visit my mother and realized that if I didn't do something about my health I was going to look and feel just like her in a few short years. I had bursitis in my hip and a sore knee and limped. My doctor prescribed physical therapy and medication with no positive results. My next course of treatment was to have cortisone shots – not the thing to tell a person who hates needles. Thank goodness a friend recommended Pilates and that I found Evergreen Pilates.  After two months of attending classes my body experienced an 'extreme makeover'! My bursis was gone, my knees felt great and I stopped limping when I walked. Today I can say that my posture is incredible and that I look like I've grown an inch. This once clumpy out of balance grandmother can walk, run, and skip without tripping over her own feet. Apples aren't the only things that have a 'core' in my house.I actually look forward to my classes. The residents of Evergreen are so fortunate to have this incredible facility available in our mountain community. Thank you Lauri and the rest of the staff at Evergreen Pilates – you are most special."
—Chris Enebo
"Lauri is an amazing example of how Pilates can benefit one's body, mind and soul. She is an excellent and very descriptive teacher. I always leave the sessions feeling strong, centered and refreshed."
—Amy Beinecke
"Lauri Stricker's teaching methods are impressively comprehensive… in combination with her intuition and flexibility, she is able to meet both the physical and psychological needs of the student. In addition, Lauri's well-differentiated, well-explained, and well-demonstrated instruction is tailor-made such that the student feels seen, understood, respected, and gently lead toward an improved awareness of more integrated body movement."
—Dr. Carol Joyce   Clinical Psychologist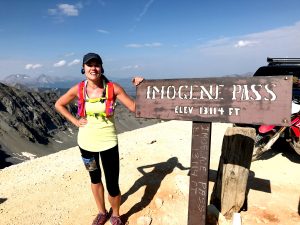 I'm a runner and had gotten into a bad habit of not including stretching and strengthening into my routine. I was inflexible, imbalanced, and was struggling with running injuries and back pain. That's when I discovered Evergreen Pilates and it has made a huge difference for me. The classes at Evergreen Pilates have helped to strengthen muscles that had become weak – especially my core – and has improved my flexibility and mobility overall. My posture has improved and so has my stamina, not only when running but also in my everyday life. I love the Evergreen Pilates app – I can sign up for classes right from my phone in under a minute. The instructors at the studio are always welcoming and willing to answer questions and provide individualized feedback. There are quite a few class options, so there is something for everyone. and adjustments during class that really get to the root of each person's needs.   I'm so happy to have found Evergreen Pilates.  -Mya Sapien
"Pilates with Lauri has been a life altering experience that has changed the way I look at my life, as well as fitness, exercise and mental well-being. In an ever-demanding world where work demands much of our time, it's easy to lose focus on what is really important. Pilates with Lauri helps me to remember that the frustrations of each day are truly trivial in the bigger picture. Lauri has an innate ability to demonstrate balance, strength and grace with every movement. She is more than a teacher; she a mentor with compassion and dedication that is unparalleled."
— Christine English   UCD Biochemistry PhD Candidate
"Over the past year and a half of taking Pilates with Lauri, my flexibility has improved enormously! I am able to do things now that I never thought possible. My body has definitely become more long, lean and toned. With Pilates everything else seems so much easier – from snowboarding to hiking to tennis – the added core strength I have achieved from Pilates has improved all facets of my active lifestyle. Lauri explains everything very clearly and provides plenty of visual cues. Lauri delivers each challenging class with tones of enthusiasm, encouragement and fun. You'll get addicted."
— Andrea Mehlem   Accord Publishing
"I have been taking Pilates classes at Evergreen Pilates from Lauri Stricker for a year. I am continually impressed with the smallest details of her applied knowledge of Pilates. If I am developing inappropriate tension she can see from across the room which limb I should move which direction and how much and the problem goes away. She has a real gift for teaching. The right amount of push and empathy and she appears to love her work. She sees it as important and so do I. Pilates made a number of significant claims about what the impact would be on my body and they have all come true. And when I think I have enough figured out to do this on my own, I don't. I'm a fast learner but it is entirely different under instruction and Lauri is the very best."
— Eric Protzman
I am so thrilled with my body's flexibility and strength after 10 years of Pilates. I can still bend over easily to dig in the earth, to pull weeds and plant flowers. I am so appreciative for all of the stretching that we do to keep toned and limber. I think I am the oldest at the studio if we compare the amount of wrinkles. I am go grateful for this part of my life!Thank you Evergreen Pilates!!! – Ann Moore
"I have been taking Pilates classes once a week for one year at Evergreen Pilates, and my results have been dramatic. Applying my new understanding of 'core' muscles has improved my golf swing speed by 10-12% and has allowed me to swing with greater ease and consistency."
— Tom Chicovsky, Age 59, Golf Professional
"I had my grandson here for a spring break holiday and took him for a ski/ride school last weekend. He is 9 and has been eager to learn snowboarding since he was five. Since I was up there I decided to try downhill skiing for the first time since 1986. I took a lesson on Saturday and Sunday. My pilates really kicked in for me. I was able to "stir from my hip" to move my ski and I used my breathing, focused on my core — everything worked for me. I was paralleling green runs all weekend. The best part is that I was not sore or physically impaired in any way! I skied a total of 5 hours each day and no physical complaints. I was amazed at my body. I know this is totally due to your training. This was the first time I have really challenged my body since I started pilates. I have decided that I will resume downhill skiing — a sport that I assumed I would not be able to really enjoy again. You and your staff are truly amazing. Thanks so much for working with me!!!!"
— Carol Clark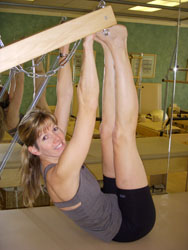 "After having back surgery, I believe in Pilates 110%. I have been attending classes at Evergreen Pilates for over four years. Strengthening my core and stretching three times a week has given me the ability to continue my active lifestyle."
— Marie Van Baal
"I have been taking classes at Evergreen Pilates for over 3 years now. The staff is so professional, and yet they are caring and supportive too. They have helped me through injuries and at times adjust classes to meet the needs of each individual in class. There is such a variety of classes, you never get bored. I had back problems prior to going to Evergreen Pilates. Since taking classes there, my back is better; there is no need for physical therapy or a chiropractor. Pilates, and all that it stands for, has become a part of my life. My core is stronger than ever before."
— Kim Bent
"This testimonial is to anyone interested in doing Barre-Pilates and may be hesitant to start a class like this because you are not sure what it is and if you would even like it. I write this letter for you. I too was a little intimidated going into a class that uses a ballet barre. I thought to myself, " okay, you are not flexible, you can't dance and you need to turn around and leave." But, something inside of me said, "I'm staying to at least try it." Lauri was so welcoming and any fears or second thoughts I may have had were melted away with her positive and caring attitude. She genuinely makes you feel, that no matter where you are coming from or what level of fitness you are, you belong in her studio. I have done several classes and I am more flexible than I have been in years, my legs and arms are really toning up and my spinal cord actually feels alive and not some cement rod holding up the inside. I'm addicted to this class now. I encourage you to give it at least a try. You won't be disappointed!"
— M. Sheffield
"Lauri's morning Barre Elevate class is a belly-crunching, butt-busting hour of fun. She teaches and individually helps the participants get the most out of their workout. Not what you think when a barre class comes to mind. Be prepared to work and have fun. A great way to start the day. Please consider a DVD barre class for days when I can't be there!!!!!!!!!!!!!!!!!!!!!"
— Kathleen Laurie
"It is hard to come up with the words to describe how amazing Evergreen Pilates is! I consider myself fortunate to have found a studio with many loving people and talented instructors who care about their students' individual needs. The care and time they take in refining techniques and building confidence are incredible! Different instructors are able to tailor to the tastes, styles, and capabilities of students. I am pleased with the great variety of class choices and class times, which make it a breeze to sign up for classes to accommodate my busy schedules as a working mother. Barre-Elevate is my most favorite, among All Equipment Pilates, Mat Exercise, and Zumba that I also enjoy every minute of it. We have many sport choices to improve our physical strengths and appearance, and I am so happy to have discovered Evergreen Pilates. Thank you for establishing such a fantastic hub in Evergreen, Lauri!"
— Dr. Mancia Ko
"Evergreen Pilates has done so much for me. Not only in attaining fitness goals for important phases of my life (wedding, after baby, etc.), but really instilling in me a love for the method, and a renewed sense of self every time I walk in the door. The instructors are so much more than that; they are like friends, or family, who really make the experience intimate, and really care about their clients' well-being. I really cannot say enough good things about this studio!"– Katy Wieczorek
"I decided to try Pilates hoping it would help me to look my best on my wedding day. Lauri turned out to be a wonderful Pilates coach. Under her guidance, not only did I become stronger and more toned; I felt more balanced. When my wedding day arrived, not only did I look great, but my posture had improved, and I moved with more grace and confidence than ever before. Lauri's encouragement and dedication to helping me achieve my goals were priceless."
—Melanie Herron
"Have you ever thought that you were in good shape and then realized most of the capabilities you thought you had were diminished or just not there? That happened to me this past August. I am an active guy, Tennis, Motorcycles, camping; I love them all. I had been dirt bike riding the week before and was tired just getting the bike off of the trailer. Two hours of riding and I was ready for lunch; An extended lunch at that. Having just retired I wanted to do all of the things I now had time to do. But, there I was sitting on the couch. I needed something that would energize me. Give me back the strength and coordination I had enjoyed as a younger man. I was reading a local magazine and I saw anadvertisement for Evergreen Pilates. "Give us a call and come in for a free session". The timing was perfect. I called and Lauri scheduled a session for me. It was FUN! She scheduled a series of private lessons so I could learn the equipment, terminology, etc. as a springboard to group classes. She stressed form more than anything. "I would rather you get the form correct once than have you do it ten times wrong." So after a couple of months of classes, what did I gain? I gained self confidence, balance, stamina, posture and a group of folks who helped me through the tough stuff. My wife comments that my posture has changed. I walk with a more fluid motion and sense of confidence. My Motorcycle riding friends say my riding style is different. They cannot put a name to it, but it is more positive, grounded, always on balance. So what is my favorite class? It has to be Barre! That one hour class is tough and dynamic. It challenges each muscle group and all the parts they are attached to. It teaches a sense of rhythm and how all the parts move together. It is FUN!Thank you Lauri for getting me back on the right track! "
— Joe Platko Retired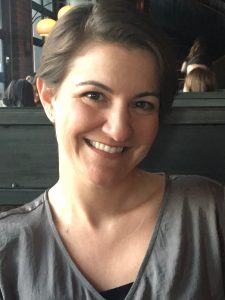 One or two classes at Evergreen Pilates end up contributing an enormous amount to the rest of my week. Their challenging instruction keeps me strong and injury-free during and between my more seasonal fitness pursuits, like skiing and trail running. The fun classmates and apparatus-assisted stretching make for a necessary stress reliever from my professional life. And the instructors' individualized focus on students has ensured I maintain great mobility following several traumatic surgeries and previously chronic back pain.  I'm so happy to have gotten to know the team at Evergreen Pilates, but a special thanks to Tracy, who both embodies and imparts the principle of "Strengthen and Stretch." I always leave her class a little taller, straighter, and lighter on my feet. – Jamie Richards
"I started Pilates in June 2004 with my friend Christine with Lauri.  The environment is tranquil and inviting. I treasure our weekly lessons and love learning new exercises. Lauri uses descriptive imagery to teach her students proper body positioning. Her technique is very effective and I have learned to engage muscles I never knew existed. After practicing Pilates with Lauri for over a year, I am significantly more flexible. I am climbing stronger than ever and find myself noticing that I use my core e very day for task as mundane as carrying laundry upstairs. Lauri's constant encouragement and guidance initiated a turning point in my life. I was looking for a fitness program I could stay committed to and ended up adopting a healthier lifestyle. Invigorated. Powerful. Relaxed. Tall. Happy. This is how I feel after each Pilates session with Lauri."  — Rachel Alvestad   UCD Biochemistry PhD Candidate
"I love the Barre-Elevate class at Evergreen Pilates and attend it weekly. It offers a great toning, balance, energetic and strengthening workout. I am using muscles I never know existed!" — Heidi McLean
I have been attending class at Evergreen Pilates for over a year since moving to Evergreen.  I tried several other Pilates classes at various studios/gyms and was thrilled to finally find a class I love!!   The classes at the studio are intimate ( I have never been in a class with more than 6 other students).  It fosters an intimate atmosphere with personalized instruction.  Classes are challenging and rewarding.  I have been extremely pleased with my experience at Evergreen Pilates!!! – Ann Mott
It is the mind itself which shapes the body.