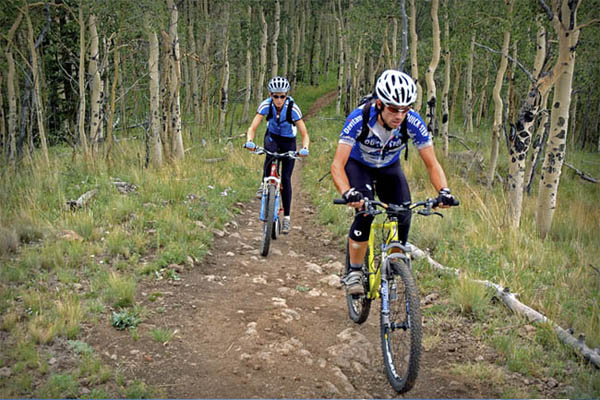 The following except is from Pilates with the Outdoor Athlete Copyright: Lauri Ann Stricker 2007.
Pilates for a Better Ride
Posture, pedal cadence, and technical skill make the elite rider shine.
Whether you are riding a century or tackling mountain biking obstacles, physical and mental fitness contribute to better balance, agility, and handling skills. To maintain a low aerodynamic position and maximize pedaling efficiency, a rider must possess core strength, flexibility, and good alignment. Technical skill such as standing, sprinting and hopping, require upper body strength. Dealing with obstacles and persevering when the going gets tough requires mental fortitude. Improving your mind-body connection begins with improving your breathing.
Whether you're a roadie, dirt lovin' mountain biker, or recreational cyclist, Pilates will help you ride smoother, pedal longer and avoid injury. While cycling improves cardiovascular fitness and lower body endurance, Pilates boosts core strength, flexibility and muscle balance. Pilates will also help you to gain greater range motion and health in your shoulders, arms and torso. As a result, you'll minimize energy expenditure, reduce back strain and experience a more comfortable ride.
To effectively implement Pilates into your cycling cross-training, please check out my book: Pilates for the Outdoor Athlete , Fulcrum 2007.
Physical fitness is the first requisite for happiness.