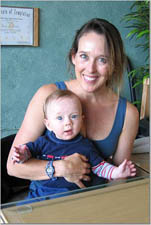 I started pilates to get in shape before pregnancy and once pregnant, a combination of eating right and pilates classes kept me in shape throughout my pregnancy (I only gained 24 lbs) – I was actually in the car on my way to Lauri's Reformer Class when I was diverted to the hospital. After giving birth I attended classes twice weekly and got back into shape in no time.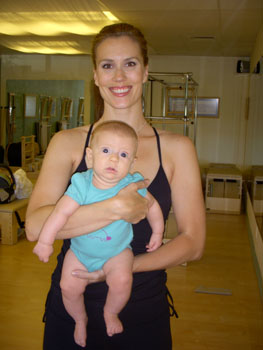 I had been a yoga enthusiast for years prior to becoming pregnant. Since my doctor didn't want me to do any type of yoga in a hot room, I pursued pilates as an alternative during my pregnancy. I was amazed at how strong and healthy I felt throughout my pregnancy, delivery and post partum. I believe that my emotional and physical happiness was due to a healthy diet and making pilates my routine at Evergreen Pilates. Within any class, I had an amazing group to work out with and a strong support system. I would highly recommend it to anyone who plans on becoming pregnant, during their pregnancy and even afterwards!
I started doing Pilates in my late 20s' as a means of resistive exercise , a great core workout and a great form of stretching. Then I became pregnant with my first child, and Pilates became a way to help ease my body into the changes it was undergoing (and to try to help maintain and preserve my former body). Two children later, Pliates has now become a sort of rehab for my body and my mind. The aches and pains of everyday life with small children melt away after each session. But also it helps to quiet my mind – I can totally focus on breathing and my body for an hour. So relaxing, meditative, and physically exhausting all at the same time. I wish I could have that hour everyday!
Pilates is designed to give you suppleness, natural grace, and skill that will be unmistakably reflected in the way you walk, in the way you play, and in the way you work.