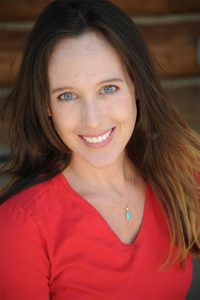 Lauri Stricker, the owner of Evergreen Pilates Studio, has been a dedicated teacher of Pilates since 2003. She is a proud graduate of the Pilates Center of Boulder Masters Program, The Pilates Institute of Boulder, and a Nationally Certified teacher through the PMA (Pilates Method Alliance). Lauri is the book's author, Pilates for the Outdoor Athlete, creator of the DVD, Pilates with your Baby, and founder of BarreElevate, a Pilates-based Ballet Barre Fitness Program. Lauri has been featured in The Denver Post, 5280 Magazine, Pilates Style "Move of the Month", nominated as one of the top 10 Pilates teachers by Pilates Style Magazine, and taught continuing education for the PMA. She has presented for the Colorado Association of Addiction Professionals, REI, and the Mind Body Spirit Conference as a representative of Peak Pilates.
Lauri has an MBA from the University of Denver. Lauri is an avid rock climber and has climbed El Capitan and Half Dome in Yosemite Valley. She is also the proud mother of two precious sons and enjoys staying active outdoors.
Having experienced and observed the miracle of movement as medicine to heal the body, mind, and heart, Lauri expanded her modalities and received certifications in Vinyasa Yoga, Aireal Yoga, and Paddleboard Yoga. After her second son was born, she passionately studied Barre and began her program, "Barre-Elevate," leading teacher training programs around Colorado. Lauri is honored to teach Yoga at the Costal Hoop Flow Retreat in Oregon. Lauri is also a certified Life Coach through the Coach Training Alliance.
Lauri seeks to share her love of movement, whether hula hooping at the park and making new friends, practicing Pilates, Yoga, Barre at the studio, or rock climbing in the Rockies (a playful vertical dance). Lauri's love of movement is the center point from which she believes we may authentically come together as both student and teacher and experience connection, healing, and joy.
My method develops the body uniformly, corrects wrong posture, restores physical vitality, invigorates the mind, and elevates the spirit.