Interview with Lauri Stricker, owner. By Karen Groves of the Denver Post.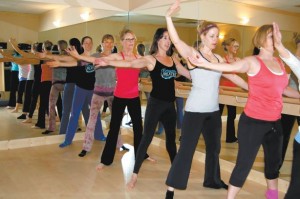 How did you get involved in this business?
I discovered Pilates when I was working in advertising sales and had a client named Richard Rossiter who owned a Pilates studio. He encouraged me to take classes. I was an avid rock climber and soon found Pilates to be excellent cross-training for my climbing. Without intending to do so, Pilates helped me to heal an injury, and I started climbing harder than ever. After almost a decade in marketing, I left my career and spent two years training before receiving my certification from The Pilates Institute of Boulder. Since then, I have become a Pilates Method Alliance certified teacher, and have completed the Masters Program at the Pilates Center in Boulder. In 2007 I published a book titled "Pilates for the Outdoor Athlete" (Fulcrum). I have also produced a DVD with my son titled "Pilates With Your Baby."
What distinguishes you from other businesses in your category?
Evergreen Pilates is distinguished by its intimate and supportive culture. Every day I see friendships made and lives changed because of the support offered not only by teachers, but also from participants to each other. Because our classes are small (six to eight people at most), you are guaranteed to be supported. My vision for Evergreen Pilates is to maintain the integrity and excellence of Joseph Pilates' method and to facilitate greater health and well-being in my clients. I have a long-term interest in developing relationships with my clients and helping them in their pursuit of health and happiness.
What do you like best about your line of work?
I like seeing people's lives changed. Pilates empowers people. They learn how to move in their bodies in ways they never knew possible. Whether it's a client who has lived with chronic pain for 15 years and is now enjoying pain-free lifestyle, or a grandmother who has regained her fitness to enjoy skiing with her grandkids — Pilates is more than exercise. Pilates restores strength, flexibility and balance.