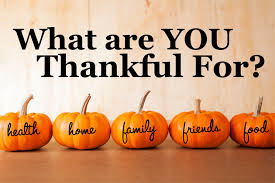 As we head in different directions for Thanksgiving, I want to share with you a few things that I am grateful for at Evergreen Pilates.
You – our amazing clients! Each week you show up, giving it your best, willing to be challenged, to try something new, and to trust us. We adore you!
Our Teachers – Carol, Jodi, Kathy, Patricia, Sarah, Tracy D. & Tracy S. Each of you is a treasure, offering your support, guidance and encouragement to everyone you meet. Never under-estimate what a blessing you are to others.
Our Cleaning Fairies – Heather & Susan, who perform their magic each week making the studio sparkle and shine. We so appreciate your hard work!
The Studio – Our beautiful and cheerful location across from Evergreen Lake lifts the spirit, even on a cloudy day. Thanks to our landlords, John and Debbie.
The Evergreen Health Community – thanks to all the Doctors, P.T.'s, Chiropractors, Massage Therapists, and Wholistic Practitioners who refer their clients to us. We are honored.
To all, I want to wish you a very blessed Thanksgiving.
In Joy,
Lauri