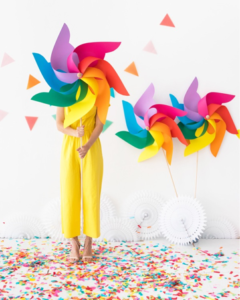 I feel the winds of change. Crazy, I know, but one of the things I like about March in the mountains. The wind is fierce and in our face. It rattles our windows and minds and topples the furniture on our decks. It is restless and relentless. It moves us. It pushes us forward, and demands change. Its purpose is spring. At the studio, we hear the wind whistle down Bear Creek Canyon and watch it race across the Lake. We feel it beat against the door and sometimes blow it wide open.
Like the wind, we're making space for change too. We've made space for new teachers, new classes and tweaked our system to make things easier for you. Now when you log on to book a class, you'll see the number of open spaces, and all of our packages have longer expiration dates.
I love pinwheels. They are colorful, and when you blow onto them, they move fast! As long as you exhale, they create a magical display of color. In Pilates, breath is the magic of all movement, all change. Breath creates space and flow for the change you want in your life. Joe Pilates said, "Change happens through movement, and movement heals." When we move, we make space in our bodies and minds for what we want, something we need.
Where do you want to breathe change in your life? Is it in your body, mind, or your lifestyle? If you're going to feel energetic in your body, and focused on your thoughts, start with your breath. So take a deep inhale, breathe in some space, and exhale out the change you seek to create. I look forward to seeing you in the studio. Meet our new teachers, try a new class, and take advantage of our March class special!